Emerging Sectors
Overview
BECC expanded its scope to include projects that focus on the production of goods and services designed to protect the environment.
In 2011, BECC and NADB recommended to its Board of Directors an expansion of project sectors, so as to maximize the role of both organizations in contributing to sustainable development in the border region and improving the quality of life of its residents. The expanded sectors include but not limited to improvements to energy transmission or energy distribution infrastructure and public transportation infrastructure, including international border crossings. Overall, the emerging sector centers on the production of goods and services designed to enhance the environment if the project also provides a net environmental benefit to the border region; and other infrastructure designed to minimize future negative environmental impacts in the border; and provided that such projects are fully consistent with the Guidance for Documenting Human Health and/or Environmental Benefits provided to NADB and BECC on December 6, 2009, and subsequent revisions.
Project that qualify as environmental infrastructure projects are those that will prevent, control or reduce environmental pollutants, or improve the drinking water supply, or protect flora and fauna provided that such projects also improve human health, or promote sustainable development, or contribute to a higher quality of life.
Available Funding
Infrastructure Funding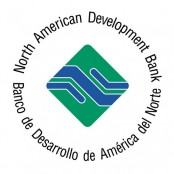 Loan
The primary objective of NADB is to facilitate financing for the development, execution and operation of environmental infrastructure projects located in the U.S.-Mexico border region.